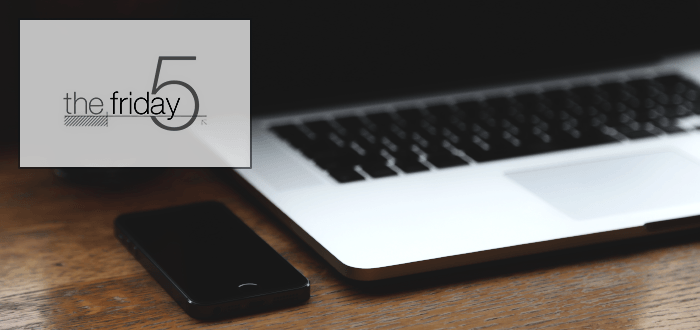 When Push Comes to Shove: App Notifications or Text Messaging? – The Friday Five
It's that time again! Welcome to another installment of "the Friday Five," a bi-monthly feature that highlights articles from around the web to give readers insight into the inner workings of the SMS industry and offer mobile marketers valuable information and helpful advice. This week we're focusing on calls-to-action, beacons, and…chocolate? Yes, you read that right. Check it all out after the jump!
---
1
Becky Hesilridge
The first entry on our list represents another great overview of the many benefits associated with SMS marketing. Written for Smart Insights by Becky Hesilridge, the Social Media and Online PR manager for digital marketing organization Pure360, this particular list addresses things like using SMS to learn more about your customers and the value of tracking response data. All in all, it's another solid primer to all of the advantages inherent in integrating an SMS strategy with your other marketing efforts.
---
2
Chantal Tode
The next entry on our list comes from Mobile Marketer Senior Editor Chantal Tode and it features her take on a recent report that was released by International Data Corp and OpenMarket. There are a number of interesting statistics and trends that can be gleaned from the report including the prevalence of mobile marketing practices within larger corporations that Chantal called "disjointed," the need for more customer focused initiatives within the SMS marketing space, and the underutilized potential of SMS within industries like security business groups and Information Technology. There are lot of refreshing insights in the piece and it's well worth reading.
---
3
Jamie Tolentino
Switching gears to a concept that has been the subject of much online discussion and a number of posts (including our own): the eternal push notifications vs. SMS debate! This piece by Digital Marketer and the Next Web contributor Jamie Tolentino adds a new wrinkle to the debate by including email notifications in the delivery system melee. Although she's specifically targeting these methods with regards to app development, Jamie's post provides information that is true of the three profiled forms of marketing regardless of whether or not they are being used traditionally or through an app. Which brings us to the next entry of the week…
---
4
Chantal Tode
Another awesome piece by Mobile Marketer Senior Editor Chantal Tode, this post further explores the beacons vs. SMS argument by calling attention to an SMS campaign use case featuring none other than chocolate empire Hershey Co. The household name-brand candy conglomerate eschewed the use of beacons in their campaign in favor of SMS because of the medium's vast reach and the opportunity for follow-up engagement. And to sweeten the pot, Chantal also profile's the SMS campaign of another well-known candy creator: Reese's. Dig in!
---
5
Greg Hickman
The final entry for the week comes from mobile industry staple and Mobile Mixed creator Greg Hickman. As any marketer can attest, one of the most important elements of any advertising campaign is the call-to-action. You have to be able to successfully incentivize anyone who hears it or sees it. Regardless of the medium, it needs to properly motivate people to interact with your brand or participate in your initiative. As the title suggests, this particular guide to crafting an effective mobile call-to-action is specific to podcasts and radio and is filled to the brim with useful tips on how to execute one that truly makes an impact.
---
---