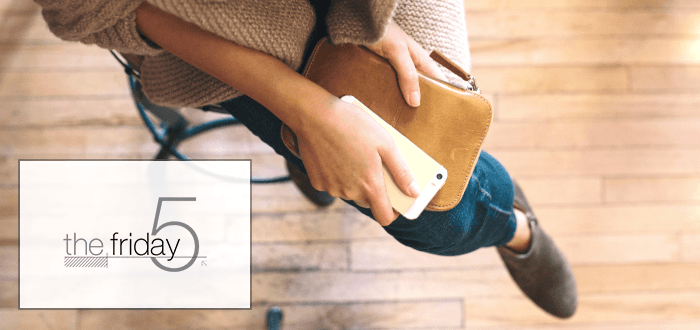 Medical Screenings, Mobile Apps, and More Predictions – The Friday Five
What do annual marketing predictions, medical uses for SMS, and the uphill battle for mobile apps have in common? Well, for one, they're all a part of this week's installment of "the Friday Five," a bi-monthly feature that highlights articles from around the web to give readers insight into the inner workings of the SMS industry and offer mobile marketers valuable information and helpful advice! So, let's get to it:
---
1
Lauren Johnson
The first entry on this list comes from AdWeek contributor Lauren Johnson. Back in October, Johnson gave a sharp and insightful run-down of predictions for mobile in 2015 by revealing quotes from eight digital industry executives including Opera Mediaworks CEO Mahi de silva and Colson Hillier, Verizon's vp of precision market insights. A number of topics are addressed in the article, including beacons, loyalty programs, and Facebook Atlas.
---
2
Greg Hickman
Moving on from industry predictions, the next entry on the list is another informative Mobile Mixed podcast from Greg Hickman. This edition features Hickman's interview with OneReach Managing Partner Elias Parker and the two address a number of issues pertaining to business/customer interaction through SMS and how to improve this relationship, citing specific examples and revealing what exactly happens when a customer texts a company. As always, Hickman delivers another must-listen for mobile marketers!
---
3
Tim Maytom
The third entry for this week's installment is an intriguing story by Mobile Marketing Magazine contributor Tim Maytom. It covers yet another inventive and incredibly beneficial use for SMS platforms. Maytum's piece reveals that, in the summer of 2014, the Scottish Government initiated a "Find my Nearest" navigation service that allows women to locate the nearest breast cancer examination center through the use of SMS. It's a fascinating read and another great example of the delivery system's value and versatility.
---
4
Aaron Strout
Following up on Lauren Johnson's post with another look at mobile industry trends for 2015, the next entry comes from Marketing Land columnist Aaron Strout. Rather than pull direct quotes from executives, Strout offers readers his own comprehensive take on what lies ahead and addresses topics like mobile security, wearables, and mobile web reboots. There's a bit of overlap to some of the Strout's predictions and the predictions of executives featured in Johnson's post, and it's fun to compare and contrast the two.
---
5
Al Urbanski
The final entry in this week's installment of the "Friday Five" is a bit of a departure from previous articles and podcasts. Direct Marketing News Senior Editor Al Urbanski reported on an eye-opening study conducted by Gartner Inc. that revealed that only 0.01% of mobile apps created through 2018 will be considered financially successful. For all those predicting mobile app dominance in the next few years, this may come as a bit of a surprise. But, as the article illuminates, consumer expectations can often become inflated.
---
---